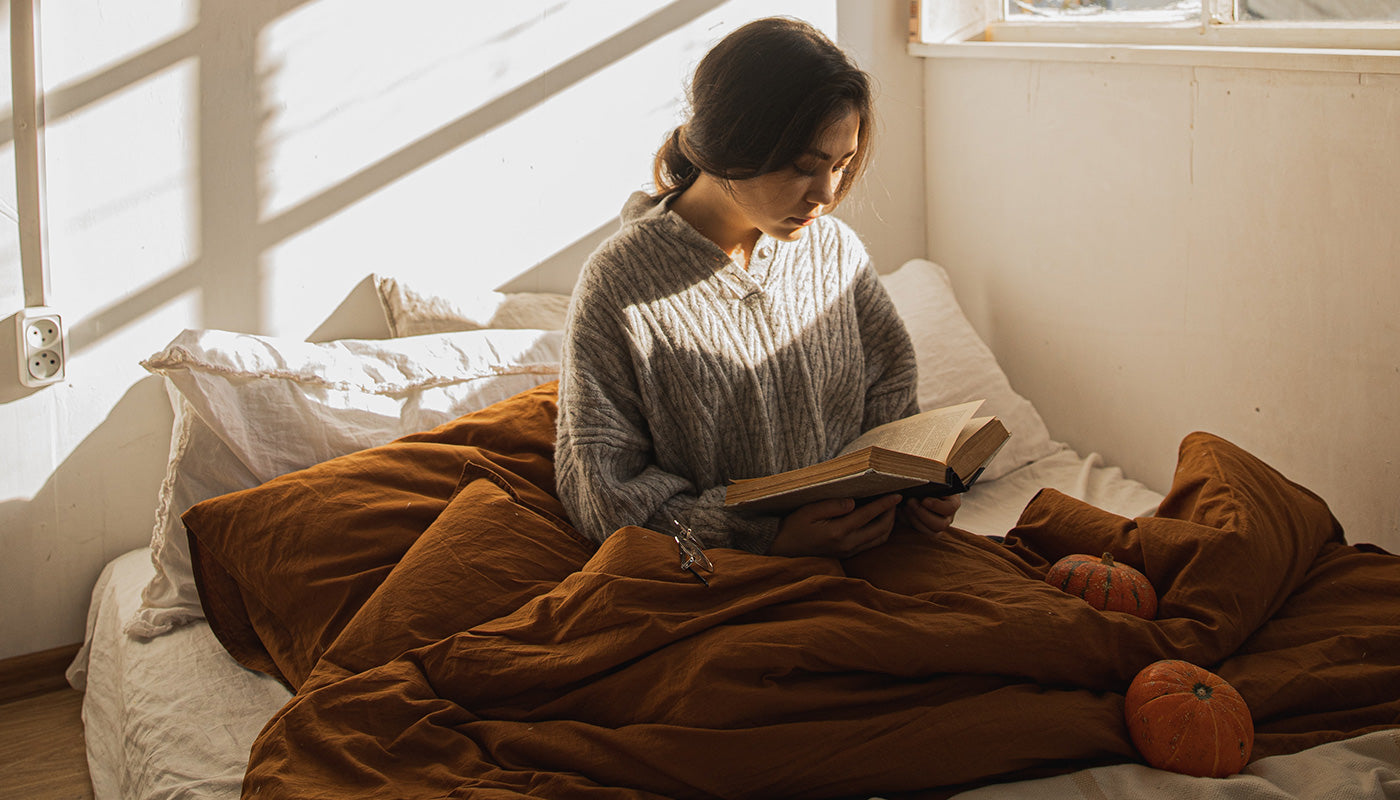 "Fall is proof that change can be beautiful."
This time of year is all about settling into feelings of comfort, reflection, and warmth. Transitioning from the excitement of summer to the gentle bliss of fall brings a welcome change of atmosphere and permission to slow down. It's the perfect time to steady yourself and be thoughtful about the world. This year, we encourage you to feel inspired to make more sustainable choices. 
To get started, here are 5 ways to be more sustainable this fall:
1. Get creative with fall decor
It can be tempting to fall for seasonal decor when you go shopping; it's trendy and brings out your excitement for the new season. But as cute as leaf garlands and plastic pumpkins are, they're made cheaply and not likely to last. This year, take some time to go out into nature and collect pinecones, leaves, or other simple items to spice up your home. Doing this can be a way to ground yourself and be mindful while still being creative. Look up sustainable DIY projects on Pinterest or YouTube for more ideas. This is a great way to turn decorating into an activity to do with family and friends.
2. Enjoy candle alternatives
Nothing says fall like the comforting smell of things like pumpkin, apple, and cinnamon. Instead of spending money on candles filled with artificial scents and harmful chemicals, turn your home into a cozy oasis with simmer pots. Get a pot, fill it with water, and bring it to a boil. Next, fill it with cinnamon sticks, leftover peels from apples, pears, and oranges (another great way to reduce waste!), and anything else you might like. Let the mixture boil for a few minutes and then reduce the heat to let it simmer. If you Google "simmer pot recipes," you'll find an endless list. It's a great way to get in the season while reducing waste and saving money.
3. Switch things up for Halloween
Just because Spooky Season is here doesn't mean your celebrations have to be frightening to the environment, too. There are ways to change up your Halloween habits to be more environmentally friendly. When you go shopping for Halloween candy, pick options with less plastic. For example, Dots and Nerds come in paper boxes and chocolate eggs come wrapped in foil; both of these types of wrapping are recyclable. If you're looking to go the zero-waste route, give out mini pumpkins or clementines with Sharpie faces on them—these are cute and completely sustainable. 
When you're done carving your pumpkins this year, don't throw out the inside "gunk." Roast the seeds for a delicious snack and add the pulp to your compost. If you're not carving pumpkins and just using them as decoration, make your own pumpkin puree to use in pies and other recipes. All you have to do is cut them in half, remove the seeds and pulp, and roast the two halves at 375℉ for 45 minutes. Scoop out the pumpkin from the skin and blend—it's homemade, zero-waste, and delicious. 
4. Change up the way you make coffee and tea
Imagine cozying up to a crisp fall morning with your favorite mug in hand. Whether you're a coffee or tea drinker, there are ways to make moments like these better with small, more sustainable choices. Ditch the K-Cups and start your morning with freshly ground coffee instead. Use a French press, Moka pot, or any coffee machine that requires ground coffee (check to make sure it's ethically sourced, too!). It'll taste better and you'll have the early morning satisfaction of having made it yourself. If you're a tea drinker, try brewing loose leaf tea with a steeper, they're reusable and come in a variety of options to choose from. 
5. Sleep earlier to save electricity
There's something calming about the idea of going to sleep when the sun goes down and waking up when the sun rises—a choice to listen to and follow the natural ebb and flow of the day. This doesn't have to mean going to bed right when the sun sets, but rather, creating a routine that mirrors seasonal changes. Doing this allows you to rest early and have a slow, peaceful start to each day. An added advantage? Going to bed earlier saves electricity, cutting down your bills while conserving energy. Fall may be fleeting, but by waking up just a little earlier, you'll have more time to savor it. 
And remember, just like the leaves turn golden and the air gets crisp, making simple, more sustainable choices proves that "change can be beautiful."